They say that one small act of kindness can transform into something that has the ability to transform the world. Indeed, kindness is something that comes from God, something that inspires you to be good and do good. An act of kindness, no matter how small is never wasted. You never know how a simple little gesture can have an effect on someone. So, always try to cultivate kindness, even during rough times.
Brooke Yoast, a nine-year-old girl from Pennsylvania has always been surprisingly thoughtful for her age. She also loves writing down notes and documenting her different experiences. One day, she met someone who was as thoughtful as her, and it turned into an unforgettable experience for not only the two of them but for many others. The nine-year-old girl was at a local Sheetz one day, eyeing some donut holes. She decided to buy them, but when the cashier told Brooke how much her amount came up to, she realized that she did not have enough money with her. She thought she would not be able to buy the donut holes, but thanks to the kind intervention of a cop standing nearby, she got her donut holes and much more.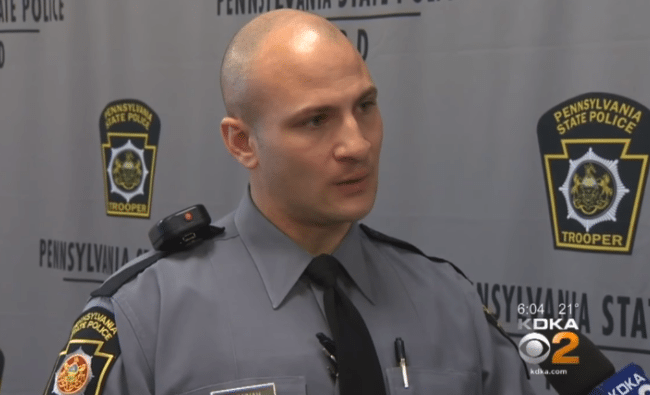 Chad Savannah, a Pennsylvania state trooper was standing in line behind Brooke when he understood what was going on. Without any hesitation, the kind officer offered to pay for Brooke. She thanked him and dashed out of the store hurriedly. Little did Officer Savannah know that the little girl was running home as fast as she could so she could write a thank-you note, which she then sent to the local police.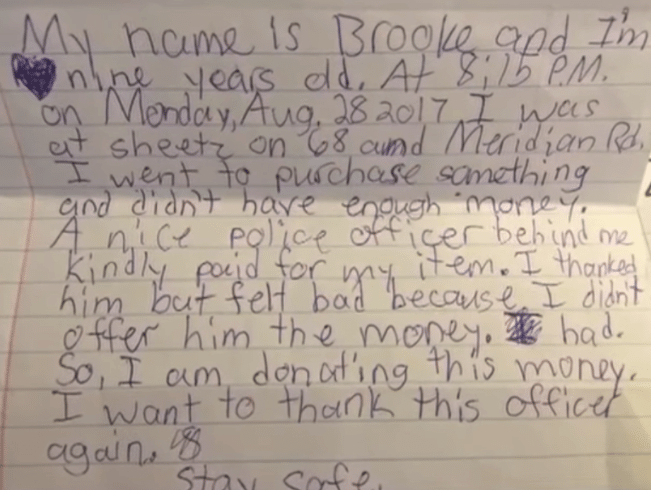 The note read, "My name is Brooke and I'm nine years old. I went to purchase something and didn't have enough money. A nice police officer behind me kindly paid for my item. I thanked him but felt bad because I didn't offer him the money I had. So I am donating this money. I want to thank this officer again. Stay safe." She had $10 sent along with the note, wanting to pay back Savannah for the money he spent on her.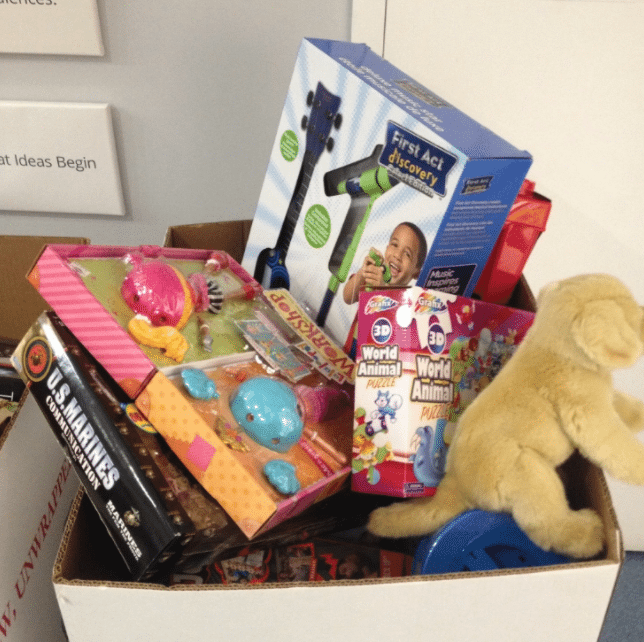 Upon receiving the note, the entire police department was so moved by Brooke's thoughtfulness, especially considering her age. So, they collected $50 for her and told her to buy as many toys as she wanted for herself. They wanted to repay her kindness.
However, Brooke, instead of indulging herself, decided to push forward this cycle of kindness further. Yes, she bought toys; but not for herself. Instead, she donated all of the $50 worth of toys to Toys for Tots. This story is a true example of how a simple act of kindness can change lives. Kindness always begets kindness. Officer Savannah had no idea that him helping a little girl to pay for donut holes would get this big.
Share the story to inspire someone to be kind today!