Colonel Roy Knight Jr. was a military pilot in Vietnam.
According to Fox News, Knight died in battle when his plane was shot down during combat. Reports say Knight ejected from his plane, but it's believed his parachute never opened up.
However, that was in 1967. Knight's remains weren't found until 52 years later.
According to the Global News, as the Southwest plane landed in the United States, the gate agent awaiting his arrival shared Knight's story with the passengers waiting to board the next flight.
Knight's son, Bryan, was just five years old when he left to fight in Vietnam. The last time Knight saw Bryan was when they said goodbye to each other 52 years ago at Dallas Love Field Airport in January 1967.
But perhaps the most beautiful part of this story is the man who was flying the Southwest flight that was carrying Knight's remains. The pilot was, in fact, Knight's son.
As pictures from the touching moment show, once the plane had landed, members of the military and Knight's family lined up as his casket was pulled from the aircraft.
Reporter Jackson Proskow for the Global News was in the Dallas airport at the time of the veteran's arrival. He took to Twitter to share what he saw:
Proskow added that many of the people waiting in the terminal at that time made their way to the window to silently watch:
The reporter concluded:
What a privilege it was to witness this moment. For those asking, they announced it over the intercom. The gate agent was very emotional as he told the story over the PA. They handed out American flags to everyone at the gate.
As the Global News reports, Knight enlisted in the U.S. Air Force days after he turned 17.
Roughly five years after joining the Air Force, he was a commissioned officer. And in 1957, he began flight training in Texas. He passed away in battle on May 19, 1967.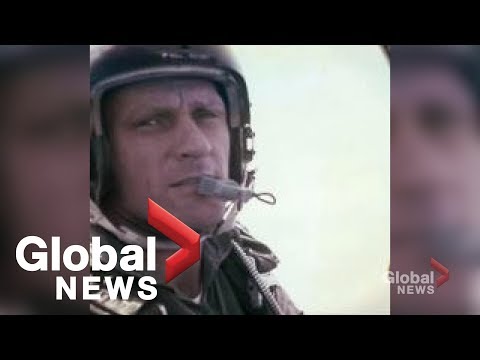 As Knight's obituary states, he loved to hunt, fish, watch, and play sports, especially with his family. He was "posthumously awarded the Air Force Cross, Silver Star, Distinguished Flying Cross, Purple Heart and six Air Medals for his actions during this time."
The veteran is survived by his sister, a brother, his three children, four grandchildren, and four great-grandchildren. Knight's wife passed away in 2008.
source:https://dearly.com/